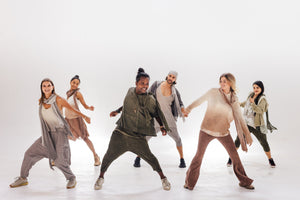 Soulful Hues
---
Welcome to the enchanting world of our newest Collection, where light natural fabrics and handcrafted knitwear converge in a mesmerizing dance of elegance and comfort.
We are thrilled to unveil this new line that draws inspiration from the captivating colors of nature. Each garment has been meticulously designed to embody both style and functionality, ensuring a seamless transition from the dance floor to casual everyday situations. Whether you're exploring the vibrant city streets or finding your rhythm in the gym, our collection guarantees that you will feel impeccably dressed and beautiful.

Imagine the sensation of donning a garment that embraces your body with utmost comfort, allowing you to move with grace and ease. Our skilled artisans have poured their heart and soul into the creation of each piece, ensuring that every stitch and weave is a testament to their unwavering dedication and craftsmanship.

The pigment dyed colors we have chosen for this collection, including sage with its gentle and soothing tones, the deepness of soil brown that resonates with strength and groundedness, as well as the unmissable shades of ice and grey that add a touch of elegance and versatility, all reflect the harmony found in nature's embrace. These hues evoke a sense of tranquility, connecting you to the natural world around you, while reminding you of the roots that support and nourish your journey.

Each piece of this collection tells a story of timeless elegance and functional versatility, inviting you to celebrate the joy of movement. Whether you're twirling to the rhythm of life or savoring the moments of leisure, our collection ensures that you will always feel radiant and at ease.

We invite you to immerse yourself in this collection, where nature's colors come alive, and where the art of dressing becomes an expression of your unique self.

Welcome, and enjoy this remarkable journey through our new Collection.
---