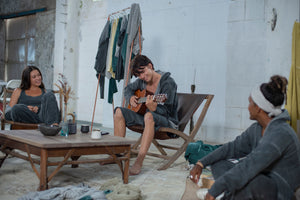 Dance dance dance
---
Salsation Wear upholds its promise of individuality and visibility! The collection's exclusive design, along with naturally colored materials, continues to personify this innovative line

Every outfit is thoughtfully crafted to blend seamlessly with others, creating ensembles that harmonize shapes, lines, and tones. This season, we introduce an exciting blend of velvet and jersey, resulting in exquisite attire. These creations are perfect for dancing and also bring comfort and warmth to your everyday life.
We've added cotton knitwear to layer translucent textures, adding depth to our outfits. Our fabric choices, whether cotton, linen, or silk, prioritize a natural and gentle feel, allowing you to move and dance with ease.
In this season's spotlight, we showcase six captivating colors, inspired by traditional dyeing techniques. These hues, like ottanio and saffron, infuse strength and joy into the collection, perfectly balanced with timeless greys and lighter shades.
Our standout feature this season is a unique print inspired by a momentous event in Japan and our inspiring Ikigai masterclass. Our collection, especially our new leggings, along with select T-shirts and kimonos, features an exclusive design created solely for Salsation, evoking Japan's enchanting ambiance. Carp and flowers gracefully intertwine, inviting you to dance and embrace the Salsation spirit! We invite to: Dance, dance, dance!
---
Sorry, there are no products in this collection.