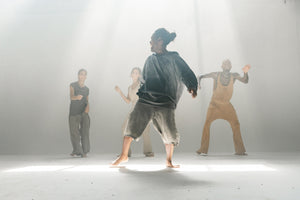 THE SALSATION® WAY
---
This new collection is for the SALSATION® customer that loves wearing comfortable clothes that leave the body free for movement. This collection can be worn not only during training and workouts but also when just relaxing at home or for casual daily wear. 
The SALSATION® styles in this collection are the result of a perfect harmony of proportions with lines, color tones, a mix of materials, and natural treatments. These attributes will make Salsation® Wear recognizable from anywhere because of the unmistakable designs and quality.
The variety of materials used is a key element in conveying the depth and refinement of the SALSATION® style. We aim to make the SALSATION® style a strong and recognizable product.
Through the different construction of the materials and their different color absorption, we could also use a single original color, managing to obtain a variety of tones and harmony in the combinations. 
The particular use of colors and their combination, find the maximum yield in the refined dyeing techniques, which enhance the concept of a soft mix of tones in harmonious gradients that are never the same.
Garment dyeing treatments are done using manual techniques such as cold dyeing with natural dyes that respect nature. This process allows us to produce tone-on-tone prints without the use of corrosive acids. SALSATION® will always try to promote sustainable and environmentally friendly production and transformation processes.
This is THE SALSATION® WAY!
---